Covid-19 Information
At TTEC the health and safety of our employees is our top priority. This page contains information about the COVID-19 virus, resources for you and your family and information from TTEC. Recommendations and information about COVID-19 is aligned with that of the World Health Organization and the CDC. We also encourage you to stay up to date on the latest information for your country by visiting Government and local Health Department/Health Services websites.
Information about COVID-19
Corona Virus Q&A
What is coronavirus disease 2019 (COVID-19)?
Coronavirus disease 2019 (COVID-19) is a respiratory illness that can spread from person to person. The virus that causes COVID-19 is a novel coronavirus that was first identified during an investigation into an outbreak in Wuhan, China.
How does COVID-19 spread?
The virus that causes COVID-19 probably emerged from an animal source, but is now spreading from person to person. The virus is thought to spread mainly between people who are in close contact with one another (within about 6 feet) through respiratory droplets produced when an infected person coughs or sneezes. It also may be possible that a person can get COVID-19 by touching a surface or object that has the virus on it and then touching their own mouth, nose, or possibly their eyes, but this is not thought to be the main way the virus spreads. Learn what is known about the spread of newly emerged coronaviruses at https://www.cdc.gov/coronavirus/2019-ncov/about/transmission.html.
What are the symptoms of COVID-19?
Patients with COVID-19 have had mild to severe respiratory illness with symptoms of
fever
cough
shortness of breath
What are severe complications from this virus?
Some patients have pneumonia in both lungs, multi-organ failure and in some cases death.
How can I help protect myself?
People can help protect themselves from respiratory illness with everyday preventive actions:
Avoid close contact with people who are sick.
Avoid touching your eyes, nose, and mouth with unwashed hands.
Wash your hands often with soap and water for at least 20 seconds. Use an alcohol-based hand sanitizer that contains at least 60% alcohol if soap and water are not available.
If you are sick, to keep from spreading respiratory illness to others, you should
Stay home when you are sick. ​
Cover your cough or sneeze with a tissue, then throw the tissue in the trash. ​
Clean and disinfect frequently touched objects and surfaces.
What should I do if I recently traveled from an area with ongoing spread of COVID-19?
If you have traveled from an affected area, there may be restrictions on your movements for up to 2 weeks. If you develop symptoms during that period (fever, cough, trouble breathing), seek medical advice. Call the office of your health care provider before you go, and tell them about your travel and your symptoms. They will give you instructions on how to get care without exposing other people to your illness. While sick, avoid contact with people, don't go out and delay any travel to reduce the possibility of spreading illness to others.
Is there a vaccine?
There is currently no vaccine to protect against COVID-19. The best way to prevent infection is to take everyday preventive actions, like avoiding close contact with people who are sick and washing your hands often.
Is there a treatment?
There is no specific antiviral treatment for COVID-19. People with COVID-19 can seek medical care to help relieve symptoms.
Resource:
https://www.cdc.gov/coronavirus/2019-ncov/about/index.html
Protect Yourself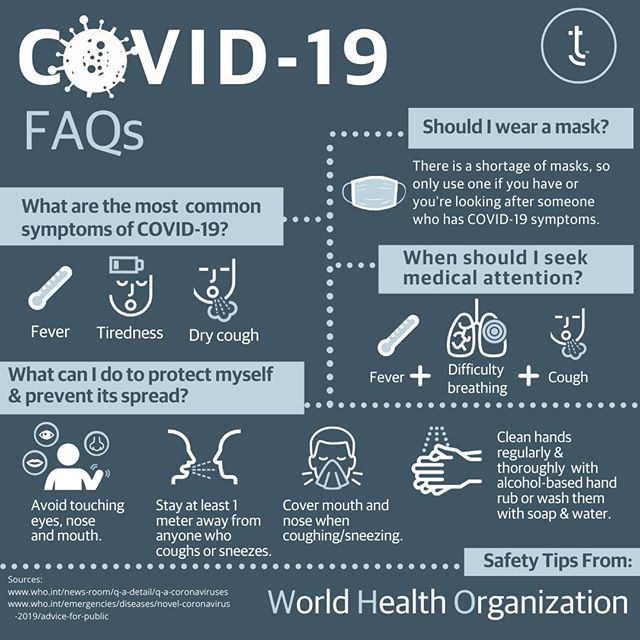 Videos
What you need to Know about Handwashing
Basic protective measures against the new coronavirus
COVID-19 Myth Buster – see PowerPoint Presentation.
For more information, visit the World Health Organization
Employee Assistance Resources for you and your family
The COVID-19 pandemic presents a range of challenges and stressors in our personal and professional lives. ComPsych's trainers have designed a series of webinars to offer guidance and best practices to help you navigate the unique situations that many people will encounter over the coming weeks.
Coping with a Crisis – learn more about how to cope during times of crisis
Talking with a child about a traumatic event – learn more about how you can talk with your family about traumatic events
ComPscyh Health and Safety Resources– learn more about global health and safety resources
TTEC Internal Resources
Staying Informed
We encourage you to visit your local Government or local health department websites as well as staying up to date through the following organizations: